Cosmetic dentistry
Teeth Whitening


In Blackheath

Tired of discoloured or stained teeth? Struggling to smile with confidence? You could achieve whiter and brighter teeth in as little as two weeks with professional teeth whitening. At-home teeth whitening offers the flexibility to manage the treatment schedule in your own time. We offer a range of teeth whitening solutions to help you feel confident again.
Achieve whiter teeth in as little as two weeks
Choose from Enlighten and White Dental Beauty
Safe and effective treatment with no sensitivity
What is teeth whitening?
Teeth can become discoloured over time by staining particles in food and drink. Teeth whitening uses special chemicals to penetrate deep into the tooth structure and flush out these staining particles. The result is whiter and brighter teeth, without risking any damage to the tooth structure. It's important to only trust a dental professional with this treatment as there is the risk of damage to your teeth and gums if the teeth whitening solution is used incorrectly.
Are you a suitable candidate?
To be a suitable candidate for teeth whitening, you should have good oral health and no signs of gum disease. If you have restorations such as veneers or crowns, you will need to consider how teeth whitening will impact your smile as these will not be affected by the whitening solution. And finally, you will also need to have dental staining caused by food or drink. If it is caused by decay, trauma or certain medications, then teeth whitening treatments will not be effective. If you're curious about teeth whitening in Blackheath, book a consultation with our team today.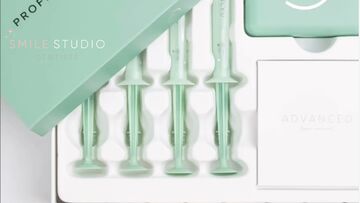 Teeth Whitening
Was £350, Now £190
Enlighten Teeth Whitening
Enlighten is a professional teeth whitening system that includes at-home and in-practice treatment options. The safe and effective formula helps to drive out stubborn stains without damaging or dehydrating the tooth. You will receive custom trays and wear these at home overnight for 2 weeks. After this time, return to the practice for a 40-minute final treatment. Your teeth will be whiter, brighter and free from all surface staining.
White Dental Beauty Teeth Whitening
White Dental Beauty is a professional teeth whitening system that promises dazzling results without pain or increased sensitivity. You could achieve whiter teeth in as little as two weeks with this clinically-proven formula. You will receive custom trays and teeth whitening solutions to apply at home. Choose from day or night treatments to suit your lifestyle. After two weeks, you will have a dazzling and bright white smile you can be proud of.
Our happy patients

"I can't thank the team enough for the professional and seamless experience they have provided.
I am absolutely in love with my teeth."
Your teeth whitening treatment journey
Wondering what is involved with teeth whitening? This is the typical treatment journey you can expect.
Step one
Free Consultation
Book your consultation to find out more about the teeth whitening options available to you. We want you to be informed and confident in your choice every step of the way.
Step two
Choose Your System
We will help you to decide between Enlighen and White Dental Beauty teeth whitening systems, which can both deliver dazzling results
Step three
Create Your Custom Trays
We take impressions to create your teeth whitening trays which you can then wear at home to start your treatment.
Step four
Smile With Confidence
After two weeks, you will have a glowing white smile you can be proud of. Return to the practice after two weeks for one final treatment with Enlighten.
Enlighten and White Dental Beauty both take two weeks of at-home treatments to achieve the best results. If you are whitening your teeth before a big event, we would recommend starting at least one month before to ensure the best possible results.
Teeth whitening is not a permanent treatment and the staining will return if you continue to eat and drink items that are known to stain teeth. There are steps you can take to maintain your teeth, but top-up treatments will be required if you want to keep your smile looking bright and white.
After your treatment, your teeth may be more sensitive than usual. Try switching to a sensitive toothpaste to help limit any discomfort. You will also need to avoid staining foods like coffee, tomato sauce and red wine as this can cause the staining to return.
We offer Enlighten and White Dental Beauty teeth whitening systems as we believe that these systems offer the best results for our patients. During your consultation, we will explore the treatment options available to find the right one for you.
Not all discolouration can be corrected with teeth whitening treatments. Restorations such as crowns and veneers cannot be whitened with a teeth whitening treatment. If your discolouration is caused by dental trauma or decay, this also cannot be corrected with teeth whitening solutions.
We offer Enlighten and White Dental Beauty systems. Both will take around two weeks before you see the results. This treatment approach helps to protect the tooth structure and ensure minimal irritation and sensitivity. Be wary of beauty salons offering instant teeth whitening results as these may use dangerously high levels of whitening chemicals.
Too many teeth whitening treatments can dehydrate and damage your teeth, but provided you are following your dentist's instructions, occasional teeth whitening is generally very safe. You might experience some increased sensitivity in response to the treatment, but this will soon pass.
At-home teeth whitening involves the use of a teeth whitening kit, which is applied to your teeth in the comfort of their own home. The process may take 2-4 weeks before any noticeable change in tooth colour is seen.
At the dentist's office, we will apply a stronger bleaching agent to your teeth and then place them under a special light for up to 30 minutes. The results can be seen after one visit.
Teeth whitening smile transformations
Before
After
Before
After
Before
After
How much does teeth whitening cost in 2023?
Spread the cost of treatment with our interest-free payment plans.
The cost of teeth whitening will vary depending on the treatment option you choose. At-home teeth whitening systems are often cheaper, as you only have to pay for the custom trays and the whitening solution. If your treatment includes any in-practice treatment, it may cost more than others. We help our patients to access high-quality and affordable care through a combination of cost-effective treatments and interest-free payment plans to help spread the cost of treatment.
Treatment
Prices

from

Enlighten Teeth Whitening
£525
White Dental Beauty
£300
Get started on your smile journey

Spread your payments up to 12 months with 0% interest. Find out how close you are...
0% interest available • Flexible repayment options • Low cost loans • Approved lending
We are happy to offer our patients 0% APR and low-cost loan facilities for dental treatment such as dental implants, Invisalign and for other cosmetic dentistry treatments. Bhandal Dental Practice is an Appointed Representative of Tabeo LTD which is authorised and regulated by the Financial Conduct Authority to carry out the regulated activity of credit broking.
Book your teeth whitening consultation today