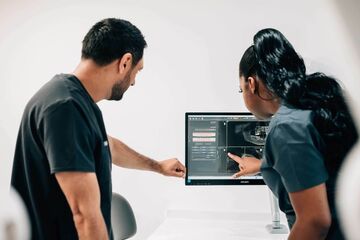 Restorative Dentistry


In Blackheath
Help to protect and restore your natural teeth with popular restorative dental treatments from Smile Studio Dentists. We offer a wide range of treatments to help restore your smile and bite following injury, decay or tooth loss. Private restorative dentistry will allow you to enjoy a natural-looking smile again. Book a consultation with our Blackheath restorative dentistry team to learn more about how we can help to preserve your natural teeth and boost your confidence.
Enhance your smile with restorative dentistry
Feeling self-conscious about your smile? Do you have gaps, chips, or missing teeth? Restorative dentistry is the process of fixing these small issues to restore function and help to create a beautiful smile. We use natural-looking restorative materials such as porcelain and composite resin to help rebuild and replace broken, cracked or missing teeth. Once completed, you will feel more confident and be able to eat all of your favourite foods again.
Are you a suitable candidate for restorative dentistry?
You could be the ideal candidate for restorative dentistry if you have missing teeth, cracked or chipped teeth, discoloured teeth that cannot be restored with teeth whitening, or if you have had a filling or root canal. We will discuss the treatment options available to you during your initial consultation.
Our happy patients

"I can't thank the team enough for the professional and seamless experience they have provided.
I am absolutely in love with my teeth."
The restorative dentistry treatment journey
This is what you can expect when you choose restorative dentistry treatments with Smile Studio Dentists.
Step one
Free Consultation
Book your free consultation to learn more about the treatment options available to you. This is your chance to learn more and ask questions about how treatment works.
Step two
Choose Your Treatments
We'll help you to choose the right treatments that will address your concerns. We offer bridges, inlays, onlays and crowns to help restore your smile.
Step three
Treatment Begins
All treatment is carried out under one roof by our incredibly skilled team. We will also provide you with comprehensive aftercare instructions to help you care for your smile.
Step four
Smile With Confidence
Once your treatment is complete, you'll be able to smile with confidence again. We recommend regular dental checkups to ensure your teeth stay healthy and beautiful for longer.
If you have teeth that are damaged, decayed, or missing, then restorative dentistry may be right for you. A consultation with a dentist can help you determine if dental restoration is the best option for your needs.

Some common dental restoration procedures include fillings, crowns, bridges and inlays/onlays. Fillings are used to repair teeth that have been damaged by decay. Crowns are used to cover a tooth that is too damaged to be repaired with a filling. Bridges are used to replace one or more missing teeth. Inlays and onlays are used to repair large cavities or cracks in teeth.

Restorative dentistry is the branch of dentistry that focuses on repairing and restoring teeth that are damaged, decayed, or missing. Cosmetic dentistry is the branch of dentistry that focuses on improving the appearance of teeth.

Dental restoration can improve the function, appearance, and health of teeth. When teeth are damaged, they can become difficult to clean and are more susceptible to decay. Dental restoration can help to prevent further damage to teeth and also helps to protect the surrounding teeth from bacteria build-up and shifting.

The goal of restorative dentistry is to restore the function, appearance, and health of teeth. Dental restoration is often used as a last measure to help restore teeth before they need to be removed.

There are three types of dental restoration: direct, indirect, and semi-permanent. Direct dental restoration involves placing the restoration material directly onto the tooth. Indirect dental restoration entails creating a mould of the tooth and then fabricating the restoration outside of the mouth. Semi-permanent dental restoration is a type of indirect restoration that is not intended to be removed once it is placed.

Dental restoration can last for many years, but it's important to follow the aftercare advice to help prolong the life of your dental restoration. Regular dental check-ups will also help to ensure the longevity of your dental restoration.

Dental restoration carries a small risk of infection and other complications. It's important to follow the aftercare advice to help protect your dental restoration. While these treatments are intended to be long-lasting, there is the risk of damage or loss if you don't follow aftercare advice. The most common failure of dental restoration is due to decay underneath the restoration. It's important to visit your dentist regularly so they can check on the health of your dental restoration.

How much does restorative dentistry cost in the UK?
We'll help you to spread the cost of treatment with monthly payment plans.
The cost of your dental restoration will depend on the size and placement. We will explore all options available to you during your consultation so you can make an informed decision. Private restorative dentistry allows for a wider choice of materials used, ensuring a natural-looking restoration. It's important to consider the lifetime value of your restoration and how it will impact your wider oral health. During your restorative dentistry consultation, we will explore the treatment options available that will deliver the results you are looking for. We also offer interest-free payment plans to enable you to spread the cost of restoring your smile.
Get started on your smile journey

Spread your payments up to 12 months with 0% interest. Find out how close you are...
0% interest available • Flexible repayment options • Low cost loans • Approved lending
We are happy to offer our patients 0% APR and low-cost loan facilities for dental treatment such as dental implants, Invisalign and for other cosmetic dentistry treatments. Bhandal Dental Practice is an Appointed Representative of Tabeo LTD which is authorised and regulated by the Financial Conduct Authority to carry out the regulated activity of credit broking.
Book your free consultation today