General Dentistry
Dental Hygienist


In Blackheath

Worried about gum disease or dental stains? A dental hygienist appointment will enable you to take control of your oral health and protect your teeth. When combined with regular checkups, this is one of the best ways to achieve optimal oral health. Regular dental hygienist cleanings will remove all traces of plaque and tartar from your teeth while also removing surfacing staining.
Protect against gum disease
Get bespoke advice on caring for your teeth
What is a dental hygienist appointment?
A dental hygienist is an important part of the dental team. They are responsible for carrying out deep cleaning to help remove all traces of plaque and tartar from the teeth. While brushing and flossing can help to protect your teeth, this won't clean hard to reach areas and below the gum line. With a hygienist cleaning – sometimes known as a scale and polish – you'll enjoy a deep cleaning that helps to protect your teeth against periodontal disease.

Who can benefit from this treatment?
Everyone can benefit from regular hygienist cleanings. If you are worried about gum disease, this treatment can help to stop and even reverse the damage. It's also ideal for removing surfacing staining from your teeth, which is great if you're preparing for cosmetic treatments like teeth whitening. You can also benefit from a hygienist visit before and after cosmetic treatments like dental implants or orthodontics. If you'd like to learn more about how this can help, book a consultation today.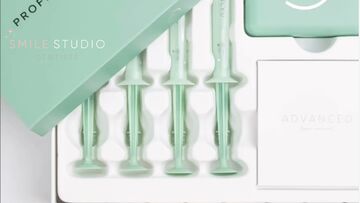 Teeth Whitening
Was £350, Now £190
Periodontal treatments
Periodontal disease is sometimes known as gum disease. This occurs when bacteria builds up along the gum line and causes the gum tissue to recede. When the gums recede, this can cause the teeth to become loose and eventually fall out. Regular hygienist visits can help to prevent this by removing bacteria from the teeth and gums. Patients with dental implants are at a higher risk of gum disease and should take steps to prevent bacteria build up, including attending regular hygienist visits.
Airflow Stain Removal
A traditional scale and polish uses tools to scrape away the plaque and tartar from the surface of the tooth, which can be uncomfortable and unpleasant. With Airflow Stain Removal, we use a thin stream of air, water and finely ground particles to remove surface stains without every touching the tooth. This makes the treatment more pleasant and just as effective. This treatment takes approximately 30 minutes to complete.
Our happy patients

"I can't thank the team enough for the professional and seamless experience they have provided.
I am absolutely in love with my teeth."
Your dental hygienist treatment journey
Wondering what is involved with a dental hygienist appointment? This is what you can expect
Step One
Book a consultation
If you're not sure if you need a dental hygienist cleaning, book a free consultation with our team.
Step two
Assessing your oral health
We'll examine your teeth and gums and look for signs of gum disease and other oral health problems.
Step three
Deep cleaning
We will use a range of methods to remove all traces of plaque, tartar and surface staining from your teeth. This could include a scale and polish or Airflow treatment.
Step four
Advice and aftercare
At the end of your cleaning, you'll have a chance to ask questions about your treatment and learn more about other treatments with us.
If your dentist notices the signs of gum disease, you need to get this under control as quickly as possible to avoid tooth loss. You will need to brush and floss twice a day and you may also require a specialist mouthwash to remove bacteria from your mouth. You should also attend regular dental hygienist visits as instructed by your dentist.
Yes, we offer direct access hygienist appointments, which means you can visit the hygienist directly without the need for a dentist referral. This can be a great option if you haven't been to the dentist for a while and are nervous about returning.
Everyone is different and some people can get away with one visit per year, while others require more frequent visits to help manage cases of gum disease. If you've never been to the dental hygienist, book an appointment to learn more about how often you should visit and how to care for your teeth in between visits.
We recommend brushing and flossing before your appointment to prepare for the deep cleaning. If you have dental apparatus like dentures or retainers, wear these to your appointment. You should also think about any questions you would like to ask your hygienist. Write them down if you are worried you might forget them.
Yes, this treatment is very effective for removing surface stains, which can make your teeth appear whiter. It's a great idea to have a hygienist cleaning if you are thinking about teeth whitening, as it can help to kick start the whitening process.
No, you shouldn't be in pain during a hygienist cleaning. The treatment is very gentle and mild, particularly if you choose Airflow stain removal. With Airflow, we don't have to touch your teeth, so there is no scraping involved. You might have some sensitivity following the treatment but this should soon pass. You may also notice your gums feel tender after treatment.
Most appointments will take around 30 minutes. If you have very advanced gum disease, we may need more time to carefully clean your teeth and offer advice on how to care for them at home.
Dental hygienist appointments may be available on the NHS, if it is medically required. However, the majority of specialist hygienist treatments such as Airflow stain removal are all private. It typically costs around £40-60 for a 30 minute dental hygiene appointment in the UK. Dental plans will enable you to access this treatment with one upfront fee or a monthly payment plan.
How much does a dental hygiene visit cost in 2023?
Affordable dental care to maintain your oral health.
We want to make good oral health accessible and affordable for everyone. That's why we offer highly competitive pricing on treatments like dental hygienist cleanings. With our introductory offers, you can enjoy excellent oral health throughout the year so you can feel confident in your smile. Regular trips to the dental hygienist can also help you to avoid the need for further treatment, which can make your overall dental care cheaper and easier to manage.
Treatment
Prices

from

Enlighten Teeth Whitening
£500
White Dental Beauty
£350
Get started on your smile journey

Spread your payments up to 12 months with 0% interest. Find out how close you are...
0% interest available • Flexible repayment options • Low cost loans • Approved lending
We are happy to offer our patients 0% APR and low-cost loan facilities for dental treatment such as dental implants, Invisalign and for other cosmetic dentistry treatments. Bhandal Dental Practice is an Appointed Representative of Tabeo LTD which is authorised and regulated by the Financial Conduct Authority to carry out the regulated activity of credit broking.
Book your dental hygienist consultation today